The last several years have seen the development of two novel techniques, tyramide based immunostaining combined with spectral imaging and NanoString based RNA and DNA analyses, that revolutionize the amount of information that can be obtained from FFPE specimens. Putting these two resources together allows human skin disease researchers to derive comprehensive phenotypic, functional and gene expression analyses, all from a single small biopsy of skin.
Tyramide Signal Amplification (TSA) Staining & Multispectral Imaging
Serial TSA staining is a simple, elegant way to sequentially immunostain histologic sections for six different markers without interspecies interference (Figure 1).
Covalently bound fluorophores are remarkably resistant to photobleaching.
Fluorescently stained slides are stable for 18 months.
TAS is linear with respect to concentration of the target protein so this technique can be used to quanitfy even low abundance proteins.
Slides are then imaged on the Center's PerkinElmer Mantra Quantitative Pathology Imaging microscope.
The process of multispectral imaging separates multiple markers in brightfield and fluorescence into separate channels (Figure 2).
The inForm software has a teachable, learn-by-example interface that allows automated cell identification and phenotyping. Automated cell analysis allows identification of an entire population of similar cells once a single cell has been selected by the use (Figure 3).
The Center provides: access to validated TSA antibody staining panels, staining protocols, access to the PerkinElmer Mantra imaging microscope to image samples and access to the inform software for automated cell analyses.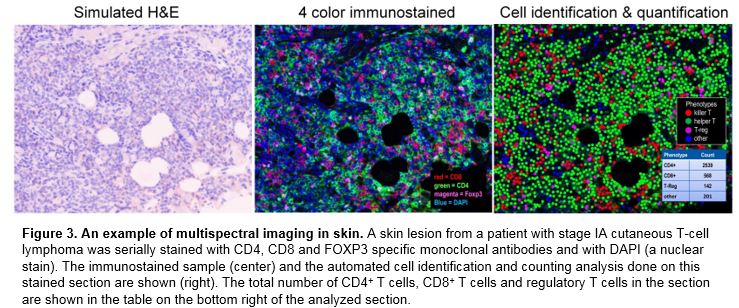 Nano String based gene expression profiling
FFPE sample preservation was originally developed to maintain morphology.
The cross-linking and degradation of DNA and RNA that occurs in FFPE samples has made it very difficult to analyze nucleic acids in these tissues using prior techniques.
NanoString technology has revolutionized DNA and RNA analyses in FFPE samples.
This technique allows quantitative analysis of up to 800 DNA, RNA and miRNA targets in one run and it is the first technique that works well in FFPE derived materials.
Results are highly quantitative and are superior to those produced by standard RT-PCR.
Sample preparation for this technique is simple and does not involve amplification.
The technology is sensitive, requiring only 100 ng of material for analysis, and is flexible, working equally well on nucleic acids extracted from FFPE samples, purified nucleic acids, cellular extracts, living cells, frozen tissues, FACS sorted cells and laser capture micro dissected cells.
How it works: The NanoString process utilizes two different probes, both recognizing different portions of the same DNA or RNA target (Fig. 4) The first probe, called the capture-probe, is labeled with biotin which immobilizes the molecules of interest onto a counting stand. The second probe is called the reporter probe and it carries a unique fluorescent tag composed of 6 fluorochromes of four possible colors linked together. Each probe's particular color combination is specific for its target molecule. This unique color code gives the technique a very high sensitivity and allows analysis of quantity-limited biological samples. These two nucleic acid specific probes interact in solution with the lysates derived from the biologic sample. Each of the probes bind to the targeted nucleic acids in solution and then are immobilized onto reading slides. These slides are then washed to remove unbound fluorescent probes and are then aligned and read by the nCounter instrument.
The Center provides: assistance with experimental planning, RNA isolation and access to the n-Counter instruments needed to analyze samples. We will also provide NanoString data from analysis of healthy human skin to help you gauge the significance of your results.